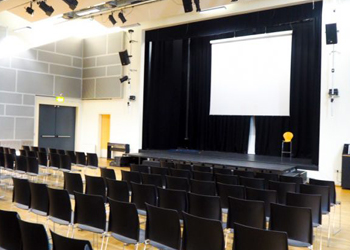 The Auditorium in our school is a large flexible space which can be configured to your needs. There is seating for up to 100 people theatre style to look onto the raised stage. The stage has curtains and the hall contains a projector, PA system plus lighting and access to an AV technician who can also be hired for your event upon request.
Related Activities:-
This large room will be perfect for performances, conferences, presentations, large gatherings and worship groups.
More Info:-
It has a collection of fantastic facilities covering corporate, education, performance and sporting requirements. It is also the ideal venue to organize Intra School / Inter School events.it is the perfect place that facilitates us to conduct extensive academic as well as extracurricular activities.